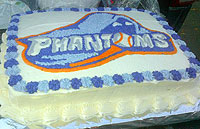 The Phantoms Fastpitch is a nonprofit, all-volunteer managed, youth girls tournament softball organization. Become a volunteer! There are many ways:
Team representative
Fundraising through donations, sponsorships, hoagie sales, pizza sales, candle sales, spaghetti dinner, night at the races, etc.
Concessions (cooking, cleaning, serving, food pick-up)
Program guide (selling, collecting ads)
Apparel (ordering, selling, selection, pickup, distribution)
Raffles
Photographer/Videographer
Community involvement by chaperoning during soup kitchens and shelters
Tournament meals to players between games (supplying food, food tent set up)
Signage
Please contact us if you are interested in volunteering or just want to know more before committing.
Email us at info@lvphantomsfastpitch.com, or ask a coach, parent, or Board member how you can assist . . . or just do the obvious!
Your time is greatly appreciated by the girls.
Every volunteer organization needs a good engine, and we are committed to keeping ours firing on all cylinders.
Volunteers are always needed, and if you have the extra time, please fill out the form below.